SPENDING
SUMMER IN
SAALBACH HINTERGLEMM
Summer activities in Saalbach Hinterglemm
A summer holiday in a ski resort? This may sound like a contradiction in terms – but in fact, it's an excellent idea, as shown by the wide range of summer activities on offer in Saalbach Hinterglemm. Action- and adrenaline-packed days or relaxed hiking tours against a breath-taking backdrop? Or maybe both? Summer in Saalbach has it all.
Action galore! One-of-a-kind experiences in Saalbach Hinterglemm (adrenaline included)
More than 8 km in length, with 200 stations and 30 zip-lines: these are the figures that make our high-rope course the largest of its kind in Europe. Your knees might well feel a bit wobbly now and then when you take a walk high above the treetops, but with every step taken and every zip-line completed, the endorphin rush will be overwhelming. In fact, the experience is highly addictive!
If you crave even bigger thrills, register for the canyoning trail on the high-rope course. You will head for the gorge, where a blend of jumps, slides, rope crossings and abseiling passages awaits all brave mountaineers. Not for the faint-hearted!
First up, then down (at speed!): securely strapped into a rope, the Mega Flying Fox takes you across the Glemmtal valley no fewer than four times, on a 2.5km stretch and at breakneck speed: The zip-lines at altitudes of up to 120 km can reach speeds of up to 80 km/h!
You have always dreamed of being able to fly? Paragliding comes pretty close – head for the GlemmArea for your personal take-off. A tandem flight takes you across the Glemmtal valley for an experience that is sure to create lasting memories!
If you prefer solid ground beneath your feet, you might want to try the Pumptrack Wieserauberg, which offers perfect conditions for mountain bikers and a round track with steep turns, waves, doubles and more!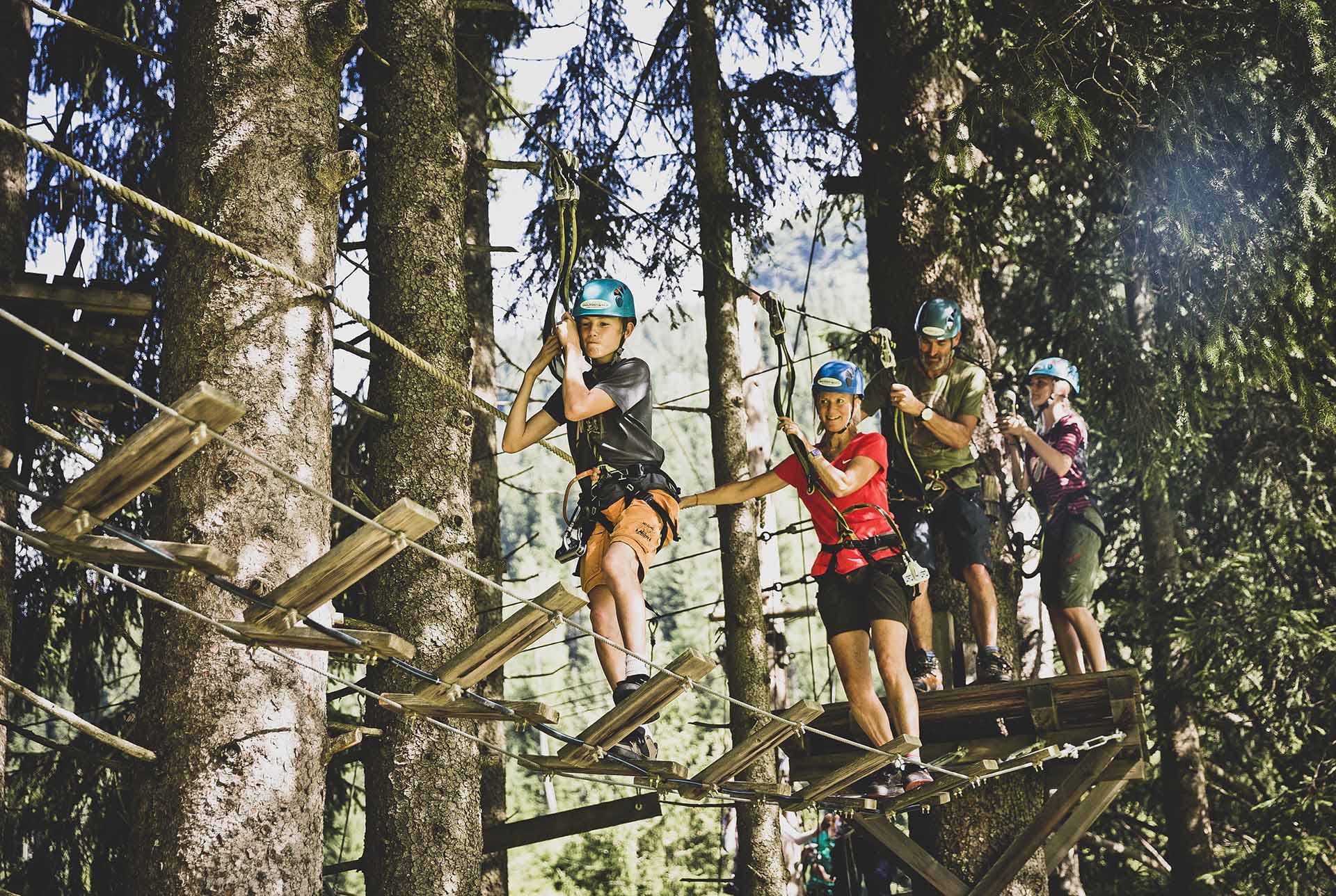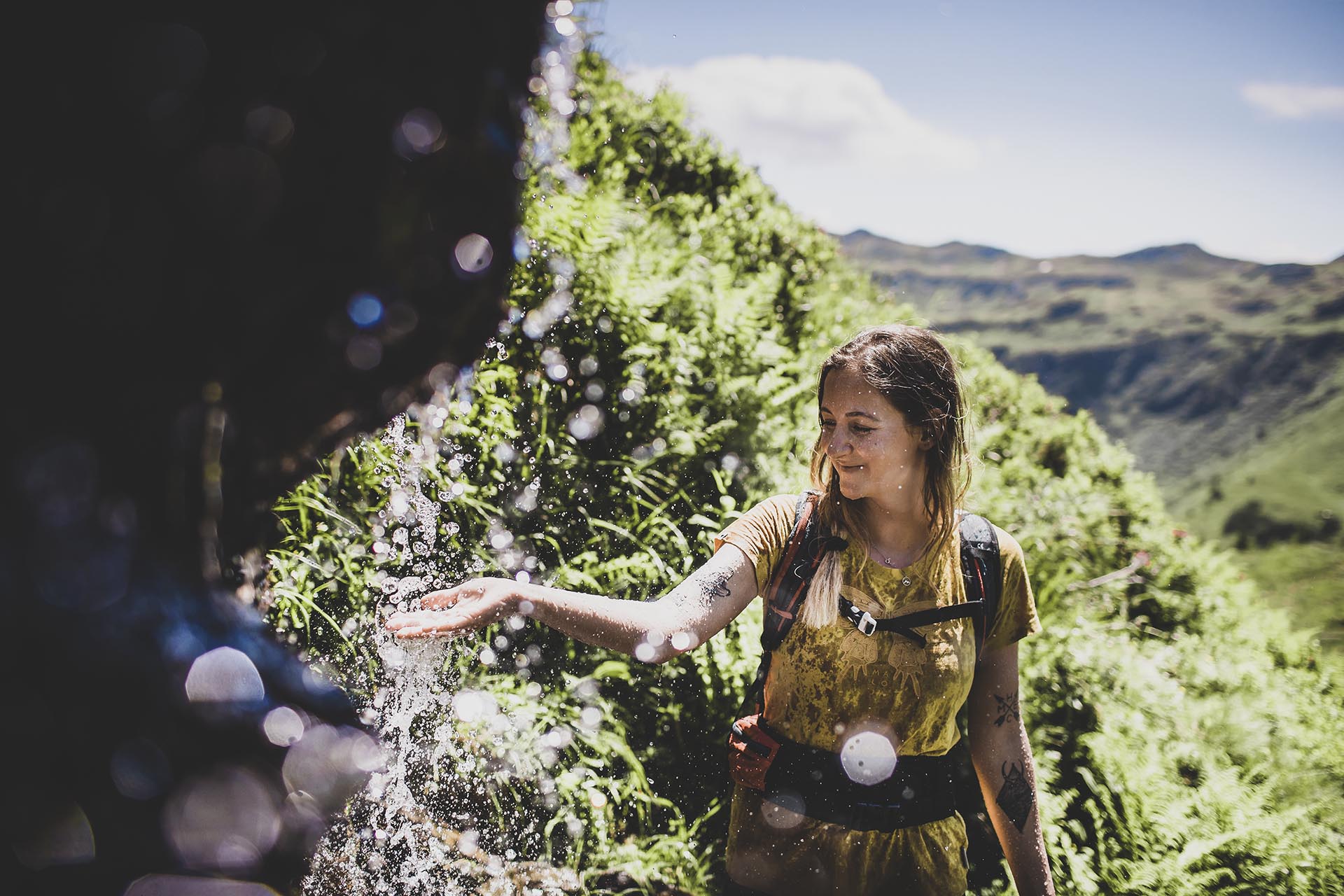 Nature and you: relaxed summer in Saalbach, Austria
Hiking is a less adventurous, but equally impressive way of exploring Saalbach during the summer months. The sunrise tour is particularly atmospheric – the early start will be well worth your while! The tour commences at 4 am, but ample rewards early risers with a spectacular sunrise on the Hochalmspitze.
Are you interested in the healing herbs that are found in the Alps? Then the herbal theme path on the Reiterkogel in Hinterglemm might be just your thing. This is your opportunity to learn everything there is to know about the herbs found in this region. Which ones are poisonous, which ones are used in medicine, and which ones belong in the kitchen? More than 80 kinds of herbs may be collected here. The herbal theme path is located next to Reiteralm pasture on Reiterkogel mountain, just an easy, 20-minute hike away from the mountain station of the Reiterkogelbahn cable car line.
Fishing and archery are known as activities that require plenty of patience – but this patience is rewarded. Try both at the Bärenbach fish pond, where the whole family can hone their archery skills before catching their own fish!  Head for the restaurant to have it prepared for you or to have it cleaned before taking it home from your summer holidays in Salzburger Land.
Something for the little ones: activities for the whole family
Every parent knows that a family holiday is only as good as the level of contentment of its youngest members. For this reason, the Saalbach Hinterglemm summer region sets great store by activities that keep the kids happy, keeping boredom and tantrums at bay. Not all kids are keen on hiking, but riddles and map-reading activities are a great way of coaxing them along. Armed with a treasure map, take the Reiterkogelbahn cable car up Reiterkogel mountain to find the hiding place of goblin Kodok and to take away his magic powers, as the little mischief-maker is causing way too much havoc!
The 3 km round tour is studded with play areas that require motor skills, brains and courage. The fairy-tale forest brings Little Red Riding Hood and her friends to life – a wonderful experience for younger children. The entrance is located directly at the Hinterglemm sports centre. In the Familienpark Hinterglemm, families can try their hand at crazy golf, visit the Kneipp facility or take a ride in a go-kart. The park with play equipment also invites you to take a break in between and to recharge your batteries for the next stage of the day's programme.
Browse our range of accommodation and find the rental that is right for you and your summer holiday in Saalbach Hinterglemm – from large family homes to state-of-the-art holiday apartments, we have what you are looking for.
Find your perfect accomodation
Find your perfect accommodation in the Salzburger Land – book a comfortable cottage in Dienten or a holiday flat in Saalbach, all in line with your personal preferences.