Whether you are new to the slopes or a seasoned skier: If you are planning a winter holiday in the Salzburger Land, Saalbach Hinterglemm is the destination for you. Swishing down the slopes in the ski carousel, après-ski, special events and of course the incomparable Austrian cuisine are just a few reasons that make Saalbach Hinterglemm one of the most tempting winter destinations in Europe.
"Home of Lässig" – the name of the region says it all! You'll see what they mean when lounging on a terrace deckchair on a mountain pasture when you take a break from skiing, letting the sun warm your face, when enjoying a leisurely evening drink at the open fire, or when discovering the many possibilities for action and adventure together with the kids, both on and off the slopes! This chill-factor is the unmistakeable trademark of the region: in Saalbach Hinterglemm, everything is that little bit more relaxed. However, that doesn't mean that you can't wear yourself out if you want to! Set your own pace while completing the ski rounds, while hiking or during après-ski.
Saalbach Hinterglemm: great skiing and a versatile range of leisure opportunities
Saalbach Hinterglemm is located right at the heart of the beautiful Salzburger Land region. In an idyllic spot between Saalach and Glemmertal, framed by the Pinzgau Grasberge, the region is part of the Kitzbühel Alps. The local mountain of Schattberg with an altitude of 2,097m is a fantastic destination for winter sports fans and hikers. With 2249m, Hochkogel mountain in the south is even higher. Saalbach Hinterglemm is not far from the holiday centre of Zell am See, making it a great base for exploring the wider region. And even if you stay local, there is plenty to do and see. After all, you are at the centre of Austria's largest ski resort, the ski circus of Saalbach Hinterglemm Leogang Fieberbrunn, with many kilometres of pistes for skiing, tobogganing, snowboarding and plenty of other options for fun in the snow. But even if skiing is not your thing or you visit Saalbach Hinterglemm during the summer months, there are lots of things to do and see for the whole family.
Let's just stick with skiing for the time being – there happens to be rather a lot to talk about!
Throw your hat in the ring: the ski circus awaits!
Facts first: 270 kilometres of pistes with 140 blue, 112 red and 18 black runs, as well as 70 cable cars and lifts and around 60 chalets. A staff of 600 make sure that the season runs smoothly and cope with an annual visitor volume of 2.5 million. As you can imagine, this is no place for boredom! From gentle hillsides to black World Championship downhill runs, carving slopes and fantastically shaped fun parks: when it comes to winter sports, this region offers everything and more, catering for all levels of experience and skills.
From Saalbach, several lifts take you up into the mountains on both sides of the Glemmtal valley. The downhill runs of Schattberg Ost are particularly popular with experienced skiers. The Kohlmaiskopf and Bernkogel pistes are more accessible and cater for all age groups. Freestyle wannabes can hone their skills in the Learn-to-Ride-Park with Boardercross. Fun sport enthusiasts can also rejoice: in Snowparks, in the Freeride Park and on the tobogganing run, having fun is what it's all about. How about a stint in the Nightpark? A great choice during the day, but also during the hours of darkness thanks to its floodlight system. Easy, medium and pro lines are all waiting to be explored.
An absolute must for families is the snow tubing track next to the Unterschwarzachbahn in Hinterglemm. Shoot down into the valley on a large tyre – if you've tried it once, you'll just have to do it again! No one can resist this kind of endorphin rush. The trend sports of Freeride and Freestyle are becoming increasingly popular, a development that the ski circus Saalbach Hinterglemm Leogang Fieberbrunn has also recognised. In fact, this was the first ski resort to open a park that combines both disciplines. The Freeride Park combines the best of both worlds – deep snow and obstacles!
Ski rounds in the circus
At first, the sheer size of the ski area can seem daunting. Where to start? How can I try as many runs as possible? Our tip: Take it easy! You don't have to explore the whole area in a single day. And by the way – from Saalbach, a free ski bus takes skiers to Hinterglemm, Vorderglemm and Maishofen. If you still insist on checking out the whole ski area in a day, try our latest round tour. When Fieberbrunn became part of the ski circus, we extended our offer of round tours. The big round tour is particularly impressive: with the aid of the ski lifts, you will conquer 72km and a combined altitude of 12,500 metres in just one day. Calculating for short breaks in between, you will need at least seven hours to complete this circuit. A great day tour for ambitious skiers! The shorter round tours are no less impressive: the Saalbach circuit, for instance, may be completed in just two hours and includes the famous 1991 World Championship downhill run on Kohlmais mountain.
Other activities in the winter paradise
Cross-country tracks, tobogganing runs, ice-skating and curling rinks, winter hiking trails, rides in a horse-drawn carriage… There is no danger of running out of things to do in Saalbach anytime soon. Child-friendly hikes, playgrounds, visits to the ski and local history museum, trips along the tree-top trail or visits to the indoor pools and spas of the region complete the winter activities on offer. You could stay for the whole season and keep discovering new things to try!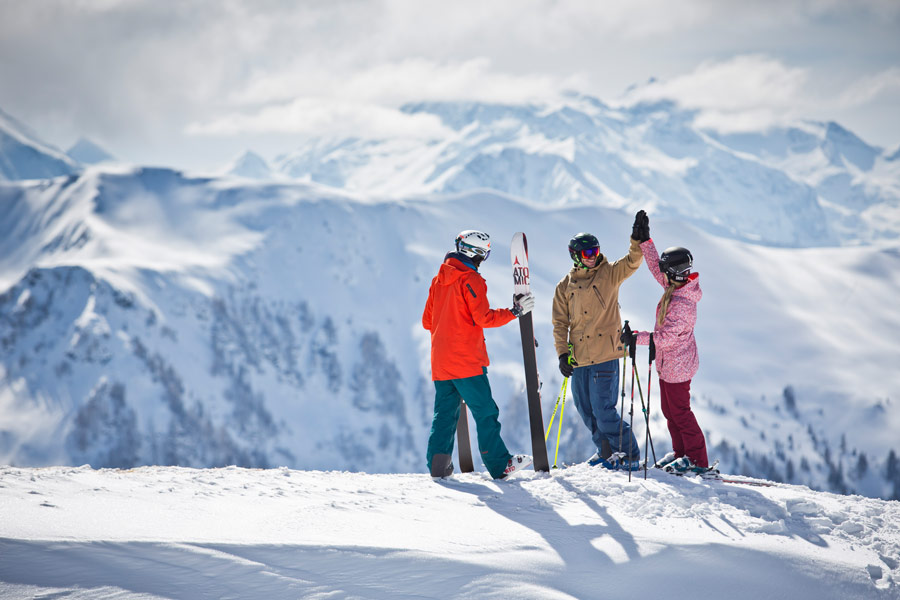 Culinary adventures in Saalbach Hinterglemm
A truly successful day on the pistes doesn't just consist of skiing and tobogganing – a  fortifying visit to a mountain chalet for is also mandatory! What would a visit to Austria be without the local cuisine? If you can feel your mouth watering at the mere thought of Pinzgau delicacies, we have prepared an overview of the best mountain inns and restaurants for you. Steak, burger and kebab fans can also rejoice: we realise that, after a long day on the slopes, dainty food just doesn't cut it! Not to mention the fact that a hearty meal is also a good basis for your après-ski…
Goaßsstall: Great après-ski and great food
Regional, hearty, delicious – Austrian cuisine as served in the Goaßstall really holds its own. If you only know the Goaßstall as an après-ski location, you might want to try it as a dinner destination. This is no-fuss food, based on traditional recipes and some international dishes thrown in, served with a view of the goat shed. Try the Wiener Schnitzel or the "Hoaße Goaß", a fillet steak of mountain ox, served on a wooden goat, or the "Goaß Pfand'l" with pork loin and croquettes. If you can't decide, opt for the Goaßstall platter for two, with spare ribs, grilled turkey steak and schnitzel, served with accompaniments.
Westernstadl Altachhof: Gor cowboys and skiers alike
Whether you come in wearing cowboy boots or ski boots, at the Westernstadl, you are sure to walk away full and happy. Juicy, Western-style steaks are served here together with local specialties, and the "Kasnockn" are the stuff of legend – not to be missed! The "Kaiserschmarrn" is the right choice if you have a sweet tooth. As a digestive, try one (or several!) of the locally brewed schnapps creations, or – if the owners are to be believed (and they are!) – sample the best whisky selection far and wide.
Schattberg Stube:The right choice for every palate
Start off with a "Fritattensuppe", followed by a juicy schnitzel and maybe a "Kaiserschmarrn" for dessert – just one of many possible menu selections in the Schattberg Stube. In addition to Austrian classics, the chef is also a deft hand at international creations such as pizza, mixed grill or stir-fries. We warmly recommend the regional choices – maybe a salad with "Backhendl", the lamb shank or the "Tiroler Gröstl"?
Der Schwarzacher: Culinary treasures served on two floors
Right at the centre of Hinterglemm, but also right next to the piste, lies Der Schwarzacher, offering great food in a stylish ambience. Guests are looked after on two levels, including a sun terrace, lounge and even a drive-in! The restaurant specialises in local fare – our all-time favourite is the Hinterglemm "Waldgulasch", followed by "Kaspressknödeln", dumplings served in broth. If you fancy a hearty platter with cold cuts, opt straight for the Pinzgau "Speckjause" with speck, mountain cheese and homemade bread.
For Fishfans:The Forellenhof
This is the top address for fish connoisseurs: freshly caught trout from the restaurant's own mountain spring water pond comes warmly recommended. Expect to taste premium quality in every bite!
Rammern Alm: Original "Pinzgauer Blad'l"
At Rammern Alm, they still serve a Pinzgau specialty that has become increasingly rare: The "Pinzgauer Blad'l"! Rammern Alm landlady Lisbeth is the only one in the region who still serves this typical dish that used to be a staple for farmers here: the "Blad'l" are made from a dough of rye and wheat flour that is rolled out thinly, made into shapes and then deep-fried. An absolute delight and equally wonderful with sauerkraut, potato salad or kohlrabi, stuffed with "Kartoffelgröst'l" or served with sweet side dishes such as blueberry or cranberry jam.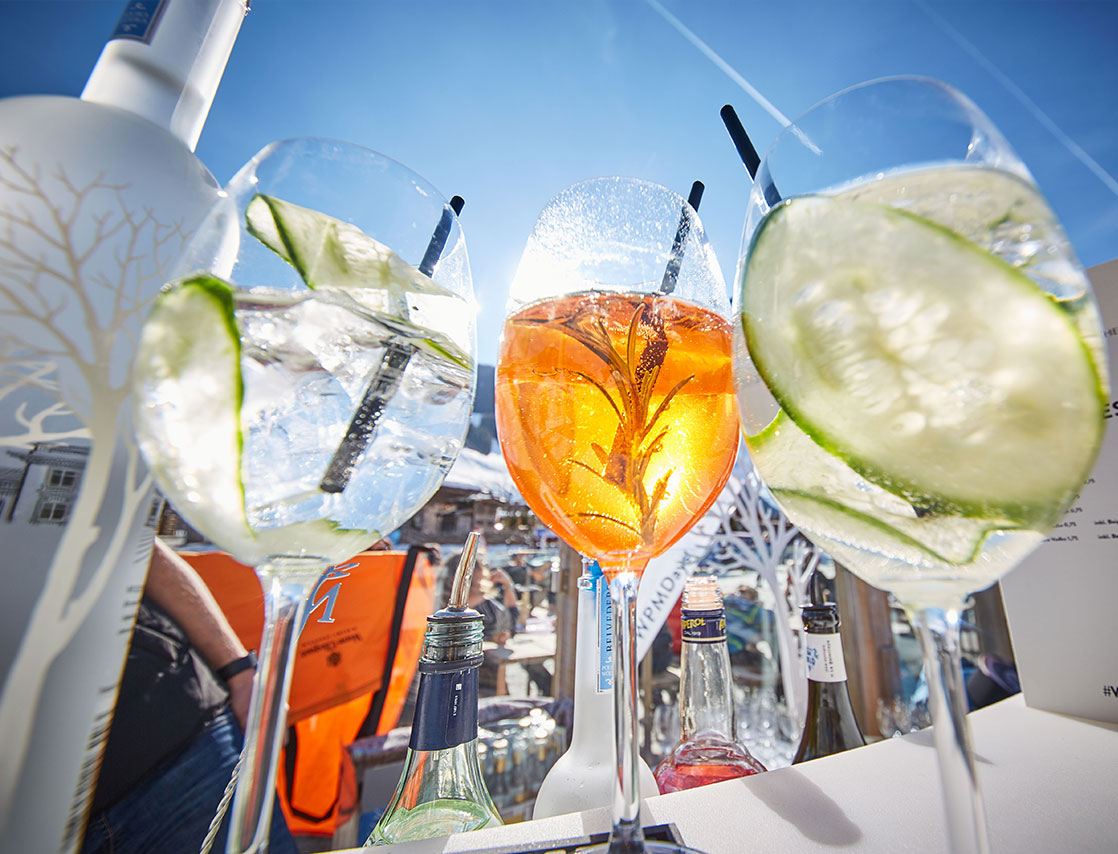 In the mood for partying after dinner? Aprés Ski in Saalbach Hinterglemm
Once you have recharged your energy levels, you are ready for the evening – and in Saalbach Hinterglemm, that can mean only one thing: après-ski! From umbrella bar to mountain chalet to the bars and clubs in the village: the choice in Saalbach and Hinterglemm is huge. See here for our tips on the best après-ski locations.
Whether you head home full and happy straight from dinner or indulge in a round of après-ski: with the right accommodation, the way you spend your holiday is up to you! HolidayFlats24 offers a wide range of different apartments, private rooms and houses in Saalbach Hinterglemm. Find the accommodation that is right for you!