During a one-week skiing holiday, holidaymakers in Europe will head for après-ski three times on average. Not surprising – after all, what could be more relaxing after a long day in the great outdoors than to really let your hair down? In Saalbach Hinterglemm, we share this opinion. Whether you are looking for some rustic "Hüttengaudi" alongside the slopes, a cosy evening in a pub or a clubbing session that turns night into day, Saalbach Hinterglemm is renowned for its versatile night life. There is truly something on offer for everyone, from social gatherings with friends to carefree parties and relaxing nights out.
Aprés-Ski in rustic chalets and cool snow bars
Goaßstall Hinterglemm – party in style, right on the slopes
When the Blaikenstall barn was turned into the Goaßstall in 1994, it was 300 years old. Today, it welcomes skiers who are looking to party – but through a window, you can still watch the goats in their barn ("Goaßstall" means "goat shed"!) The snow bar opens at 10am, and if you fancy a proper hot lunch to keep you going on the piste, look no further. The first round of après-ski kicks off between 3pm and 7pm, with a break in time for dinner. The party starts again at 10pm with DJs and a show programme, and doesn't stop until 2am, the official closing time in Saalbach Hinterglemm.
Après Ski Bar Maisalm – a breakneck downhill run and rustic party atmosphere
The Maisalm is a club located on a mountain pasture, right next to the Kohlmais run.  Once the sun has gone in, head inside from the beautiful terrace to continue the party. At the Maisalm, they know a thing or two about après-ski: good music, a few shots, and the dancefloor is heaving before you know it. If you prefer a slightly slower pace, hunker down in the "Almstube".
Hinterhagalm – legendary après-ski with "Herzerltanz"
Directly alongside the Kohlmais downhill run lies the legendary Hinterhagalm. From 4pm every day, skiers meet here for après-ski, making the Hinterhagalm an absolute classic among the region's après-ski locations. And no wonder – there is dancing on two floors, daily live music and a fantastic atmosphere, whatever the weather! The "Herzerltanz" bei Evi Fersterer is an absolute must – don't miss it!
Bauer´s Schi-Alm – four party locations to choose from
With four bars, it is not surprising that Bauer's Schi-Alm is one of Saalbach Hinterglemm's favourite après-ski locations. Hop from the "Kulimuuh-Bar" to the "Wurst-Himmel", from "Bauer's Inferno" to the "Lichtung" for a party that never gets boring! Directly alongside the slopes, and yet right at the centre of town – this is an iconic location for many. The perfect alternative to the Hinterhagalm!
Soul House – a different kind of après-ski
The Soul House is a comparatively recent addition to our range of après-ski locations. It opened in 2017 as après-ski by Castello and is located at the foot of the Bernkogel, just a few metres from the centre of Saalbach next to the Bernkogelbahn, offering a perfect blend of great food and après-ski with a twist. Soul House opens in the afternoon – enjoy the fantastic views of Saalbach and a soundtrack of House DJs and Scandinavian rock bands! Cool beats, acoustics concerts and rock music make this a great alternative to standard après-ski. A good choice for all those who prefer to dance to something other than "Schlager" music!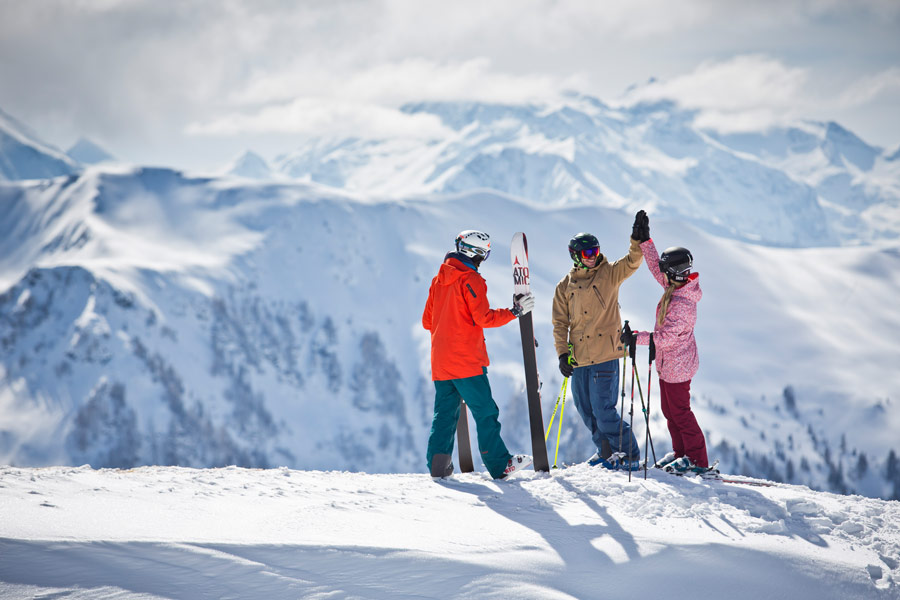 Nightlife in Saalbach Hinterglemm: discos and clubs galore
When the pistes go quiet, the party crowd moves on to the clubs in the towns of Saalbach and Hinterglemm, for a party that lasts well until dawn!
Bobby's Pub – start your night in style
Before you hit the dance floor, a stint in Bobby's Pub is just what the doctor ordered. A round of pool, table football or a session on the slot machine – the perfect way to unwind for your night out. If you make an evening of it, show off your skills on the bowling or skittle alley.  For over 30 years, Bobby's Pub has remained true to its blend of alternative music, great drinks, great people. Use it as a warm-up before hitting the clubs or while the night away right here!
"Zum Turm" – old walls make unbeatable party locations
You wouldn't think so, but Saalbach's oldest building, the fortification tower from the 12th century, houses one of the region's most popular night clubs. "Zum Turm" is not just a one-of-a-kind location, but is also known for its reliable party atmosphere and tried-and-tested blend of après-ski hits. The team really knows how to turn night into day!
Castello – Scandinavian bands and top sound
Castello is definitely one of Saalbach's most legendary clubs, located in the cellar of the Hotel Saalbacher Hof. While the hotel itself is a perfectly dignified establishment, the Castello is a bit more laid-back and offers a programme of international DJs and Scandinavian acts. The Castello was opened back in 1970 and was given a complete overhaul in the winter of 2016. The renovation has not changed the flair of this legendary club. What has changed, however, is the sound quality – it is much improved, making the dance floor even more crowded!
The Club Diskothek – your dance floor for the night
The Club, also known as The London Pub, hosts a ladies' night every Tuesday, with an exclusive show programme for the fair sex. Any other day of the week, The Club focuses on après-ski that leaves nothing to be desired: on the dance floor, at the bar or in the cosy lounge area, this is a club with something for everyone.
Alm Bar – the place that never grows up
At the heart of Hinterglemm lies the oldest bar in town. Right next to the Glemmtalerhof, the party has been going on for years, true to the motto: never grow up! After all, who needs a big club if you can have all the party atmosphere you need right here in the bar?
Alibi Bar – music for every taste
An absolute fixture in the night life of Saalbach Hinterglemm is the Alibi Bar, known for its great blend of music that ranges from the 1960s until today. Live acts also like this place – check out the programme, you might be surprised! Great music and a fantastic cocktail and beer selection make this the perfect destination for a fun night out.
Tanzhimmel Aprèsworld – award-winning location
The "Tanzhimmel" is always a good idea: for three years running, this party location has nabbed the après-ski award, no mean feat and certainly no coincidence. The party atmosphere in this one-of-a-kind location really speaks for itself. When other places have already shut down for the night, the Tanzhimmel is still heaving!

Take it easy: with relaxed and stylish aprés-ski 
Quality instead of quantity: if you prefer to savour your drinks instead of notching up a personal record, there are several places in Saalbach Hinterglemm that might be just what you're looking for.  After all, who says that après-ski has to be Schlager music and "Hüttengaudi"? There is nothing wrong with a stylish, more relaxed approach. You don't believe us? Maybe you should pay the following locations a visit and see for yourself:
eva, Alm – enjoy a sundowner in style
The eva, ALM is the ideal location for all those who think that a good glass of wine or a cocktail make the perfect end to a day on the slopes, but who are not interested in partying the night away. A stint in the lounge bar is a wonderful way to bring a day's skiing to a relaxed, indulgent close. The spacious terrace, an open fireplace and a delicious sundowner served with chilled lounge music – a different kind of après-ski that is all about relaxation.
Wood's Cocktailbar – first-class drinks menu
Wood's Cocktailbar at the Hotel Alpine Palace is the perfect address for top-of-the-range cocktail creations and outstanding wines, to be enjoyed after an active day on the slopes. The bar menu is definitely worth a second look and offers everything from whisky sours to premium red wines and fantastic cocktails. Relaxation comes easy with this selection of out-of-the-ordinary drinks and a stylish atmosphere.  In winter, live acts perform here several times a week.
Steiner's Pub – for a cosy end your day
Steiner's Pub is all about chilling out. Have a whisky or a regionally produced liqueur to unwind, but watch out: the cosy atmosphere is hard to resist and one drink can easily turn into several! Enjoy – skiing holidays come but once a year.
And if you want to write your own après-ski script, have it your way in your holiday accommodation. HolidayFlats24 offers a wide range of accommodation in the Saalbach Hinterglemm region. From charming chalets to stylish apartments and cottages, find your perfect accommodation in Saalbach today!