Once the winter sports season kicks off, visitors flock to the big ski resorts. In addition to the slopes, après-ski locations and leisure activities, accommodation is a crucial factor when it comes to choosing a holiday destination. Big hotels, small B&Bs, a holiday flat or cottage – the decision is never easy! Are you looking forward to having breakfast prepared for you and your room cleaned, or do your prefer the flexibility and space that come with renting a property? As enjoyable as a hotel service is where you don't have to lift a finger, there are also certain downsides. Who wants to keep looking at their watch when it comes to breakfast or the opening times of the hotel bar? For many, the choice is clear: a holiday rental instead of a hotel room! Holiday rentals are more popular than ever, also during the summer months. And once you have swapped a hotel room for your own four walls, you will know the benefits they bring! We have prepared a short overview detailing the advantages of a holiday rental. Because one thing is for certain: a holiday can only be a success if you feel good about where you're staying!
Flexibility – do what you like, when you like
Early and late risers know the problem:  you wake up starving – and either the breakfast buffet isn't even open yet at such a godforsaken hour, or you have to rush there just before it closes, making do with a few scraps and leftovers. In your own holiday rental, on the other hand, you can have your breakfast at the time and place that suits you: a quick muesli in the kitchen early in the morning before going for a run, a leisurely breakfast in bed for late risers, or a long brunch in the morning sun on the terrace of your holiday rental. No queues at the egg station, no having to shout over the din in the breakfast room to make yourself heard. You decide how to start your day. And let's be honest: in your own four walls, everything is that little bit more relaxed.
The problem with having to stick to certain times and having to beat the queues doesn't just happen at breakfast time. In the hotel restaurants, bars and wellness areas, the same thing happens over and over – they are either closed or packed! Either plan your day according to someone else's schedule, or face a locked door. What sounds amazing in the hotel brochure may look quite different once you're actually there. Flexibility? We think not! In your own place, however, the bar is open whenever you fancy a drink. You eat out when you want to, or prepare your own meal when you're hungry. Your rental has a sauna? Well, then you decide when to work up a sweat, without having to take other guests or the time into account. With a holiday rental, you are completely in charge of your own schedule. You decide how to spend your day!
Have we tickled your fancy with all this talk about rentals with a sauna? Then this property might be right for you!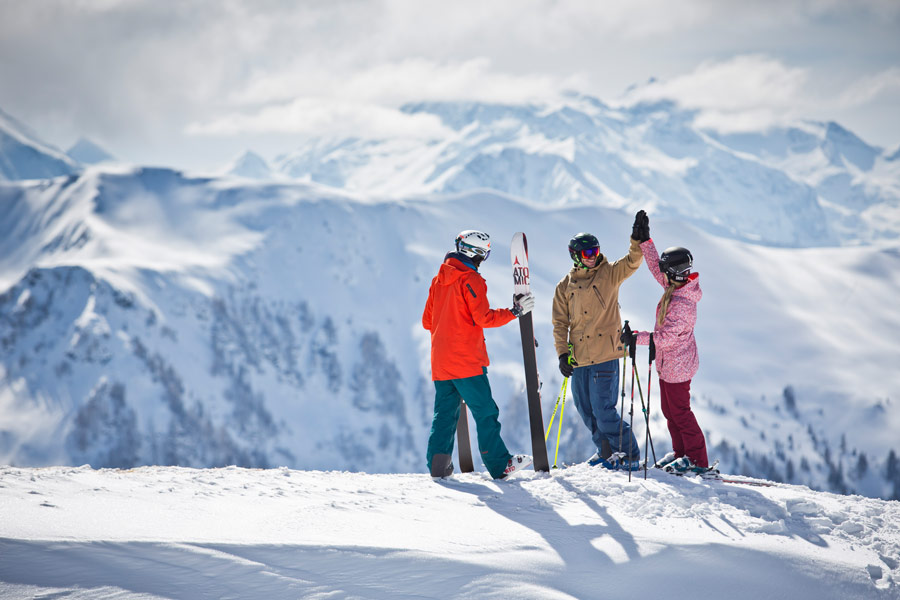 Privacy or company, depending on your mood
No housekeeping service to interrupt your beauty sleep, a breakfast that may last half the day, a relaxed evening on your own terrace: for many holidaymakers, the privacy of a holiday rental beats any hotel. You are free to do what you like, wear your pyjamas while chilling on the sofa or enjoy an intimate night in with friends. You feel like meeting new people? Why not invite the people next door to your rental for a coffee? Enjoy the privacy and the sense of freedom that comes with having your own four walls, and spend some time with company whenever you feel like it.  It's all up to you! Your holiday rental is your home from home, to do in whatever you like.
Just the way you like it – a holiday rental that suits your taste
Hotel rooms are nice, no doubt. However, sometimes they can feel a little sterile, or are furnished in a way that simply isn't to your taste. With holiday rentals, on the other hand, the choice is much bigger and you can decide on the property that suits you. A modern apartment or a cosy chalet? Alpine charm or sophisticated elegance? By choosing the accommodation that is right for you, you automatically feel more at home than in a run-of-the-mill hotel room. Instead of large hotels with an x amount of rooms all furnished the same way, your holiday rental is a unique and lovingly furnished property with character.
How about something truly out of the ordinary, like a rustic winter chalet where you can snuggle up with a hot toddy in front of the fire in the evening, or an interior design highlight with state-of-the-art furnishings? Browse our offer of holiday rentals to find the accommodation that strikes a chord with you. But be warned – you might be overwhelmed by a sudden desire to redecorate your own place! Clicking through the images alone will inspire you – so just imagine what an actual holiday in these beautiful gems will do!
When it comes to facilities and equipment, holiday rentals are also a step ahead. Instead of the same old, same old hotel room accoutrements, you will get exactly what you need in a rental: dishwasher, a storage room for your skiing gear, a balcony, a bathtub, a coffee-maker or whatever else you just cannot live without. Simply book the holiday rental that offers exactly that!
Pooch goes travelling
A big plus for all dog owners: dogs may be an absolute no-no in many hotels, but there are plenty of holiday rentals that allow you to bring a pet or two. This means that the four-legged members of your household get to join you on your holiday! You don't have to worry about other hotel guests who might not be as enamoured of dogs as you are, nor  about other dogs in the hotel who might see your one as a rival. Holiday rentals that permit pets often provide utensils such as feeding bowls, baskets etc.
For beautiful holiday rentals that allow pets, see here.
We're ALL going on a (summer or winter) holiday
There is a difference whether you are travelling as a couple, with kids or as a group of friends. With a family or as part of a group, space is of the essence. In a hotel, you might be lucky enough to get adjacent rooms, but as soon as you hit the breakfast room, things get hairy:  Is there a big table left that will seat all of you? And at dinner, you might attract enervated glances from other diners when your kids loudly chat about all the adventures they had on that day. For groups, a holiday apartment or cottage is simply ideal. A large common area provides space for game nights and cosy hours together. The kids can make noise and leave their toys all over the house without bothering anyone. In the kitchen, you can do the cooking and washing up together while chatting and enjoying a glass of wine. With a sufficient number of bedrooms and bathrooms, everyone has the privacy they need, and proximity never becomes oppressive. You are travelling with whole group of skiers?  Accommodations that sleep large numbers, for instance thanks to bedrooms with bunk beds and large common areas, are definitely a better choice than a hotel.
Great value for money – unbeatable prices for holiday rentals
This is the point where we are talking money – and fact is that you spend less of it in a rental than in a hotel. If you travel with several people or for a longer period of time, a holiday rental will inevitably be better value for money. Not only will self-catering have a positive effect on your holiday budget, the costs per night will also be lower as you are not paying per person, but per property. So on top of all the advantages we have already listed, you will also save your hard-earned cash, leaving you with more spending money. We believe that this is called a win-win situation!
Have we convinced you of the advantages of a holiday rental? Then don't hesitate to try out HolidayFlats24 for your ideal accommodation in the Salzburger Land. Enjoy your stay!